Who are we
Watersports Bali is a cooperation between a Dutch internet office and local operators from Bali. Head office is located in the Netherlands:
Idezia, Oppenheimstraat 82, 9714 ET Groningen
KvK: 57044511
Our close contacts with suppliers on the beach guarantee competing prices without the intervention of external parties. Our own staff provides a personalized service.
Our history
| | |
| --- | --- |
| 2012 | First flyboard is introduced in Bali, produced by Pandawa. |
| 2013 | Website Flyboard-bali.com online. |
| 2014 | More flyboards are introduced. |
| 2015 | Watersports-bali.com is developed and online |
| 2016 | Tours added to Nusa Penida. |
| 2017 | Tours added to Ubud. |
| 2019 | Water-sports-lombok.com is developed and online. |
Partners
Flyboard Bali is the first flyboard supplier in Bali and works close with Watersports Bali.
Pandawa Marine Adventures is one of the biggest water sports suppliers in Nusa Dua which offers our water sports activities as well.
Toekad Rafting is our well organized operator of our activities in the area of Ubud.
Amarsvati Luxury Resort Condotel & Villa makes its location available for our activities in Lombok. 
Agus Ambara Putra
Activity supervisor & driver
Agus also called Eby will be most likely the one that will come and pick you up. He is the main man at the beach when it comes to arrange booking and coordinate everything at the beach. He speaks good English and knows Tanjung Benoa and all its activities like the back of his hand. He's originally from Bali and can also tell you something about the Balinese culture while you with him in the car.
Bayu Febri Utomo
Guide & flyboard professional
Bayu, is one of our contact persons on the beach. He is a talented Flyboarder in Bali and he looks after all our equipment. He knows exactly what needs to be serviced and repaired to keep all our equipment safe and in best condition.
Ahmad Badruzzaman
Guide & flyboard professional
We all call him Amang, he's originally from Banyuwangi and the youngest and smallest of the team. If you don't see him flying or on the jet Ski he mostly runs around and keeps himself busy with other activities. Due to his light weight and extreme talent in Flyboarding he is the best when it come to Tandem Flyboard sessions.
Obing Yayan Pribadi
Guide & flyboard professional
Or just Yayak 🙂 He's originally from Banyuwangi, but moved to Bali more than 11 years ago. He's more quiet, but very helpful und polite. He's been with Flyboard Bali since 2011.
Komang Muliadnyana
Guide & flyboard professional
Or Nyoman. He also listens to the Nickname Joblar, what the boys like to call him. He's from Bali and one of the older ones in our team. He's been with  Flyboard Bali since the very beginning.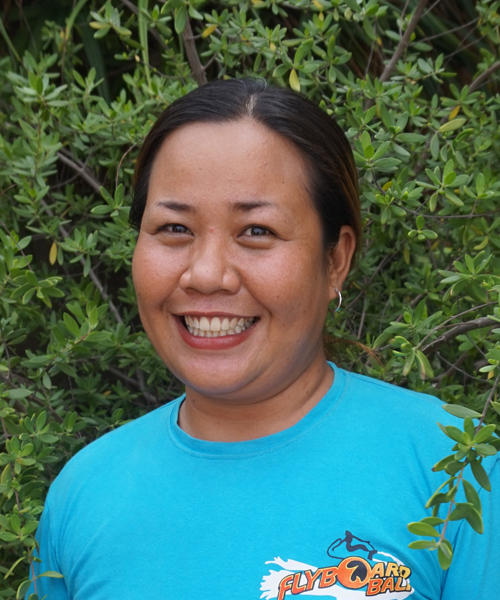 Koman Koby
Bookkeeper
Or just short Koby. She is the bookkeeper and the Mumma of all the boys that she calls loveingly her anak anak (kids) She's been with Flyboard Bali since beginning of 2016 and makes everyone smile and everyones life easier.
Building Relationships not Revenue
We pride ourselves in servicing our customers with the highest of standards in mind. Our goal is to create an unburdening experience for you from your pre-book to your post-book. We take away the weight and pressure of negotiations that we know you will run into without us by your side. Our partners are the safest and best in the industry and supporting you and the success of your holiday is our main priority.
Fully Trained on Safety by Western Standards
We are committed to a high standard in every aspect of our activities, tours, customer safety, and helping to assist in making this one of your most memorable days in Bali. Our equipment is branded & verified by international safety standards. We are also constantly maintaining and upgrading our equipment so we can stand by the fact that we have the safest and most up to date equipment available.
Price
Most of our locations that we operate out of and throughout Nusa Dua offer almost 50% higher prices than we do. Because of our relationships, we get discounted rates, which we can in return share with you. Of course, you could probably take your chances negotiating, but the lower the price – the lower the safety ratings. So stick with us, and you're guaranteed the BEST pricing out there and the SAFEST….oh and did we mention, how hands on our customer service is?
Thanks to Ramona, we had the most epic day in Nusa Penida! We chose the All Day Tour, because of photos we saw people posting on Instagram of Broken Beach and Angels Billabong. These places were everything we thought it would be, except there were a lot of tourists, but everyone was really polite about giving space for photos.
We messaged on the day of wanting to do some water activities last minute and they responded to us right away! Thanks so much for sending Agus, he was really nice and did a good job. One of the best guides we have had. We enjoyed the Watersports as well. We highly recommend the Parasail Adventure and the Flying Fish!
Went on a solo trip to Bali just last week and decided to tryout on some adrenaline rush activities. Booked through their website and I can say that it is really awesome and amazing. I did Jetski, Parasailing as well as Flyboard twice on one day. All of it were amazing but the killer was definitely the Flyboard.